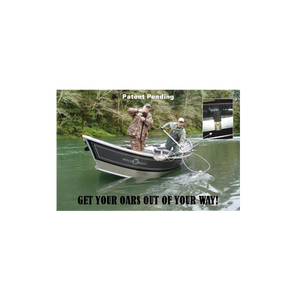 Tim Juarez's Drift Boat Oar Rests
Drift boats and row boats are great ways to fish but keeping the oars out of the way while landing fish can be an aggravation as well as a hindrance. 
Tim Juarez's very easy to install Oar Rest is the answer we have all been waiting for.  These hassle-free Oar Rests provide a quick and easy way to tuck your oars away and still be able to return them to the water in an instant.
The Oar Rests are made of stainless steel, one pair per package, with mounting instructions including the necessary mounting parts that are also in stainless steel.  A durable vinyl coating that is flexible and weather resistant covers the tip of the rests contacting the oars.
Comes in models for aluminum and fiberglass drift boats.
---